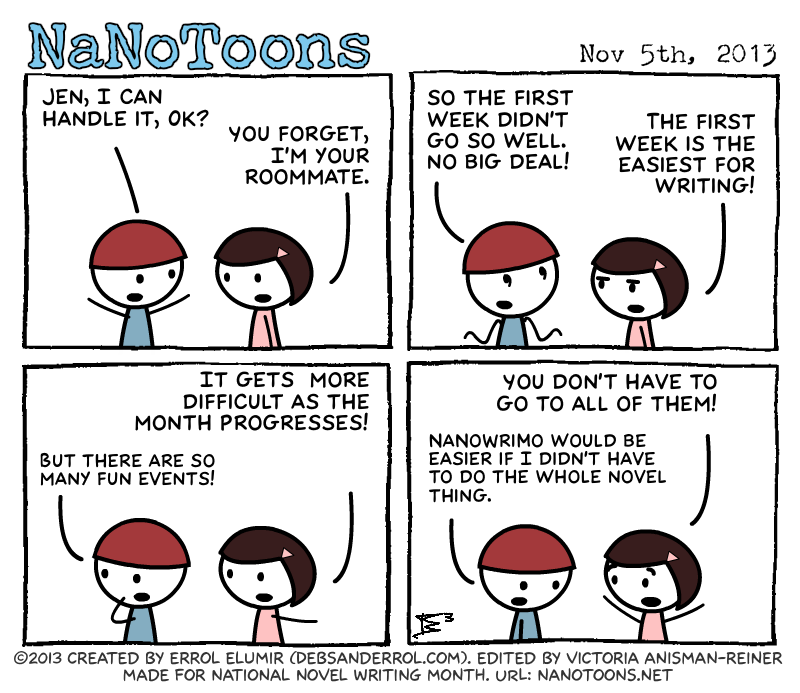 Errol: I realize that not a lot of people see this through the website. I mentioned on my twitter that NaNoToons Facebook had surpassed my geek band's facebook, and I had a few people surprised that NaNoToons HAD a facebook!
NaNoToons doesn't have a twitter though. I figured that I would use my personal account for that because, well, I think only NaNoWriMo people follow me there anyway.
I did find something cool called Tablo. I think it's another self-publishing platform, however, there is a NaNoWriMo View! You can see mine. Look how pretty it is! In the bottom left, you can see stats! I like stats. It doesn't have a way to jump chapters yet, which is good, because I don't really want you people to read my pantsed novel. I assume length and reams of dialogue is enough to deter people.

I will mention one important thing I added a while ago that is awesome, and that's Comic-Rocket. It adds navigation to the NaNoToons. Did I mention that made me happy? It made me happy!